PITTSBORO, N.C. (June 8, 2017): The world's premier eighth-mile drag racing association has not forgotten its outlaw roots. Pro Mod was birthed by asphalt desperados, and while the class has evolved and expanded to its current sophisticated and perhaps even exclusive state, the PDRA has not lost its first love. In true outlaw fashion, the biggest and baddest of the PDRA will now be even bigger and badder.
Effective at the Mid America Showdown in Indianapolis, Indiana, July 13-15, nitromethane will be allowed in Pro Extreme.
"This move is going to be great for the class, great for the racers, great for the fans," stated PDRA's Bob Harris. "This type of excitement is what the PDRA is all about. We are home to the quickest and fastest eighth-mile doorslammers on the planet and we plan to keep it that way."
The PDRA has implement just two rules in using nitromethane. First, injected nitro is allowed at 98 percent with dual mags allowed and no restriction on one fuel pump. Weight requirements are the same as screw cars at 2350 lbs. Second, roots supercharged engines up to 14-71 are allowed no more than 40 percent nitro with one mag and no limit on fuel pump size. These are limited to 70 percent overdrive. All other rules for Pro Extreme can be found in on
PDRA's competition page
.
The PDRA would love to hear your thoughts.
Give us your feedback on Facebook!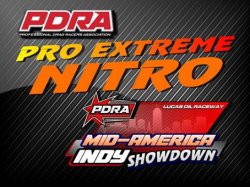 ​
ABOUT THE PDRA
Based in Pittsboro, North Carolina, the Professional Drag Racers Association is the top sanctioning body in the United States for the sport of eighth-mile drag racing. The PDRA's professional categories include Pro Extreme, Pro Nitrous, Pro Boost, Extreme Pro Stock and Pro Extreme Motorcycle along with several sportsman and various exhibition categories. The 2017 PDRA schedule consists of eight national events. For more on the world's premier eighth-mile drag racing organization visit
www.pdra660.com
. Follow the PDRA:
Facebook
,
Instagram
,
Youtube
.
####
Photo: Gary Rowe / RaceWorks.com / PDRA660.com