InsideProMod.com got a chance to talk with Jamie Noonan of Noonan Ultimate Race Engineering about their new 4.900 Bore space hemi engine they debuted at the PRI Show. We chose this as our 'first' tech article, because we believe that the 4.9 hemi will sure to be a game changer in legal and outlaw Pro Mod.
InsideProMod (IPM):
Tell us the basics of this new motor. What are the major differences in the 4.9 Hemi and the 4.8 Hemi (Fathead style that most run), and why did you go in that direction?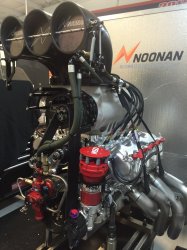 Jamie Noonan (JN)
: "Obviously the bore center was a big factor. We went from 4.8 to 4.9 bore centers. So we can actually take up to 4.600 bore now where we were limited to 4.500 bore before. Which allows us for the PDRA Pro Mod cars to run a much bigger intake and exhaust valve than we could with the 4.500 bore. Not only did we go bigger with the valves, we stood the valve angles up three degrees so it flattens the chamber out, and raised the port up half an inch on intake and exhaust.
"So the bigger bore allowed us to go bigger with the valve and stand the valve angles up three degrees on both valves. That allows us to run a shallower chamber. Effectively we can get a lot better flowing cylinder head on both intake and exhaust than we could have with our normal 4.8 bore center. Now one of the other biggest factors was we spread the lifter spacing from 2" to 3.250". Not only does it make the valve train geometry absolutely perfect as far as push rod angles to rocker locations, it allows us to not have any push rod bulges in the intake port. It frees us up with a lot more intake port development than we could have done with the 2" lifter spread in our current 4.8 Hemi. The biggest factor is we have a lot better cylinder head than we could have with our 4.8.
"You can run up to a 5/8" diameter push rod if you want on both the intake and exhaust. There's also...
Andy McCoy Race Cars has been hard at work developing the latest 1979 C3 Corvette body. The new design has been developed to be extremely aerodynamic while still retaining the classic Stingray Corvette appearance. The new body design will be available for order starting December 1st 2016.
The Corvette is an American icon that has deep roots in motorsports. The 79 C3 Stingray body style was the most produced Corvette in the cars history. The Andy McCoy Race Cars take on this American classic features unique aerodynamic characteristics developed with the assistance of an aerodynamics engineer while keeping the classic body appearance. The body will be available in both Fiberglass and Carbon Fiber versions. With all Andy McCoy Race Car bodies the 79 Corvette body will be able to be made completely removable in minutes, making maintenance, adjustments, and repairs a breeze. A chassis for the 1st body is currently being completed for a close customer. The debut car appearance will be unlike any composite body
"The 63 Corvette has been well liked and around for years, the C7 Corvette has had mixed reviews among racers as far as handling. We believe the 79 body will serve as a happy medium between them both. Being the most produced body style of the Vette it's proven to be popular. This body design features nostalgia with a mix of modern aerodynamics, we are very excited to unveil this new design, and have high expectations for it." - Stan McCoy
The streamline appearance of the 79 Corvette will feature a adjustable wheelbase of 112"-115", a 45" front overhang, has 34 ½" rear wheel openings and will accept a 36" tall rear tire. The body has been approved for all sanctioning bodies (NHRA, IHRA, PDRA, etc.) The official debut for the body will be at the end of November, the...